Q Alerts! Q Drops, Alerts, Research, Share +
Q Alerts for Android

Full Paid Version of Q Alerts
Q Alerts for Android ~
$2.99
At least for the time being, the $2.99 regularly priced paid full version is now Donationware. Please donate to help us cover monthly expenses for servers, paid language translations, other services we have to pay for and labor to keep everything operational. ThanQ!
See Also: Q Alerts LITE for Android ~ $FREE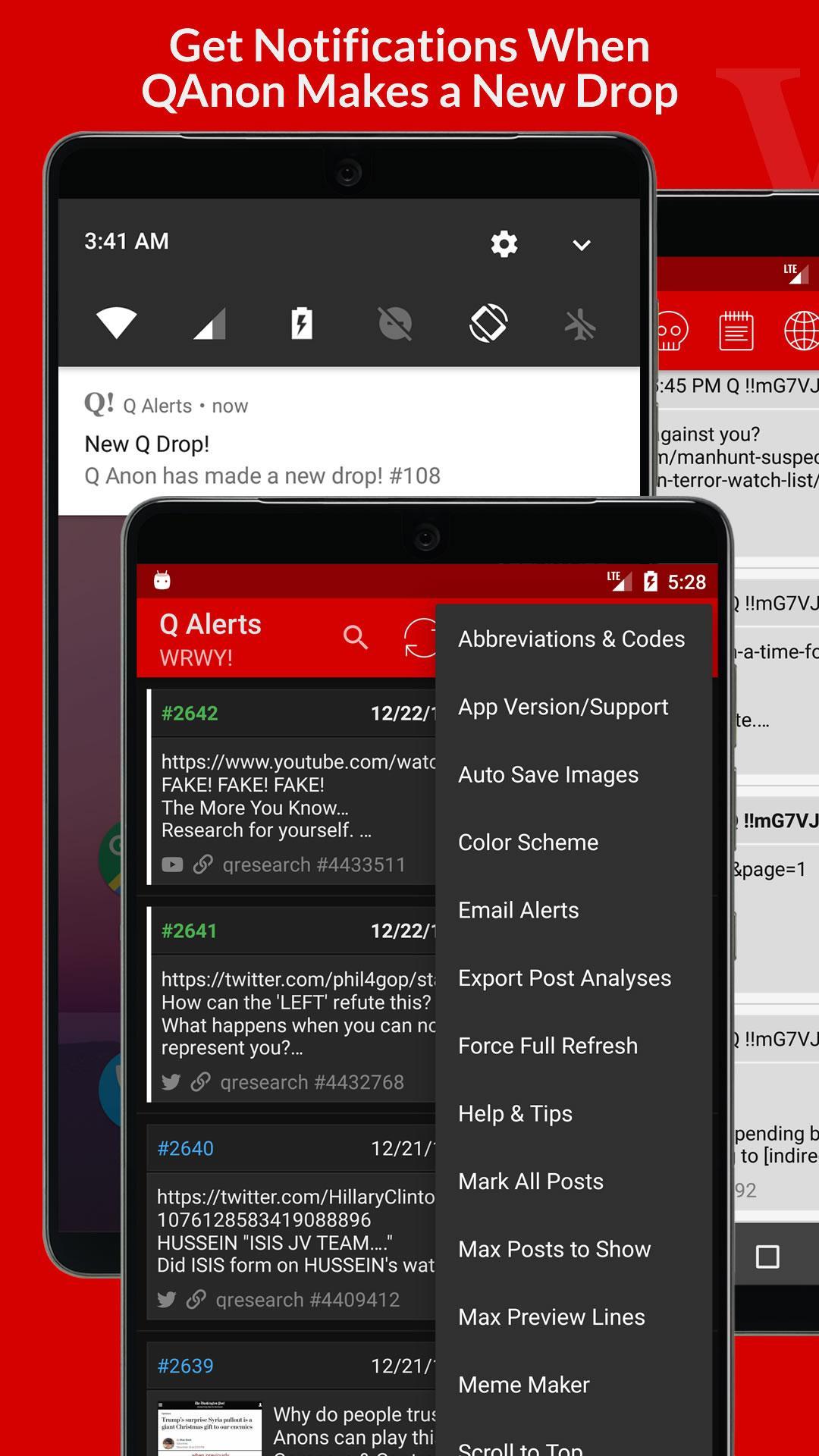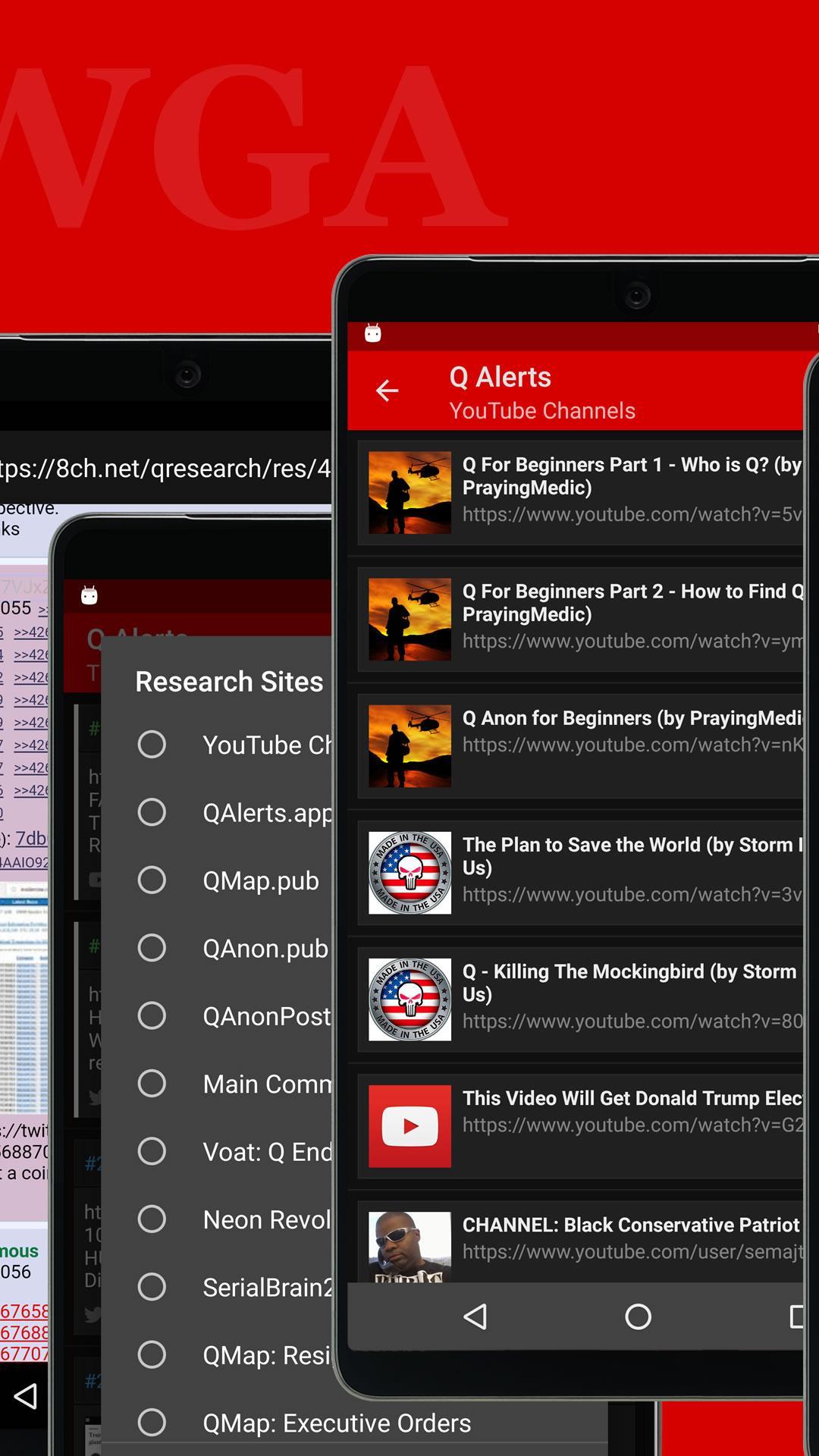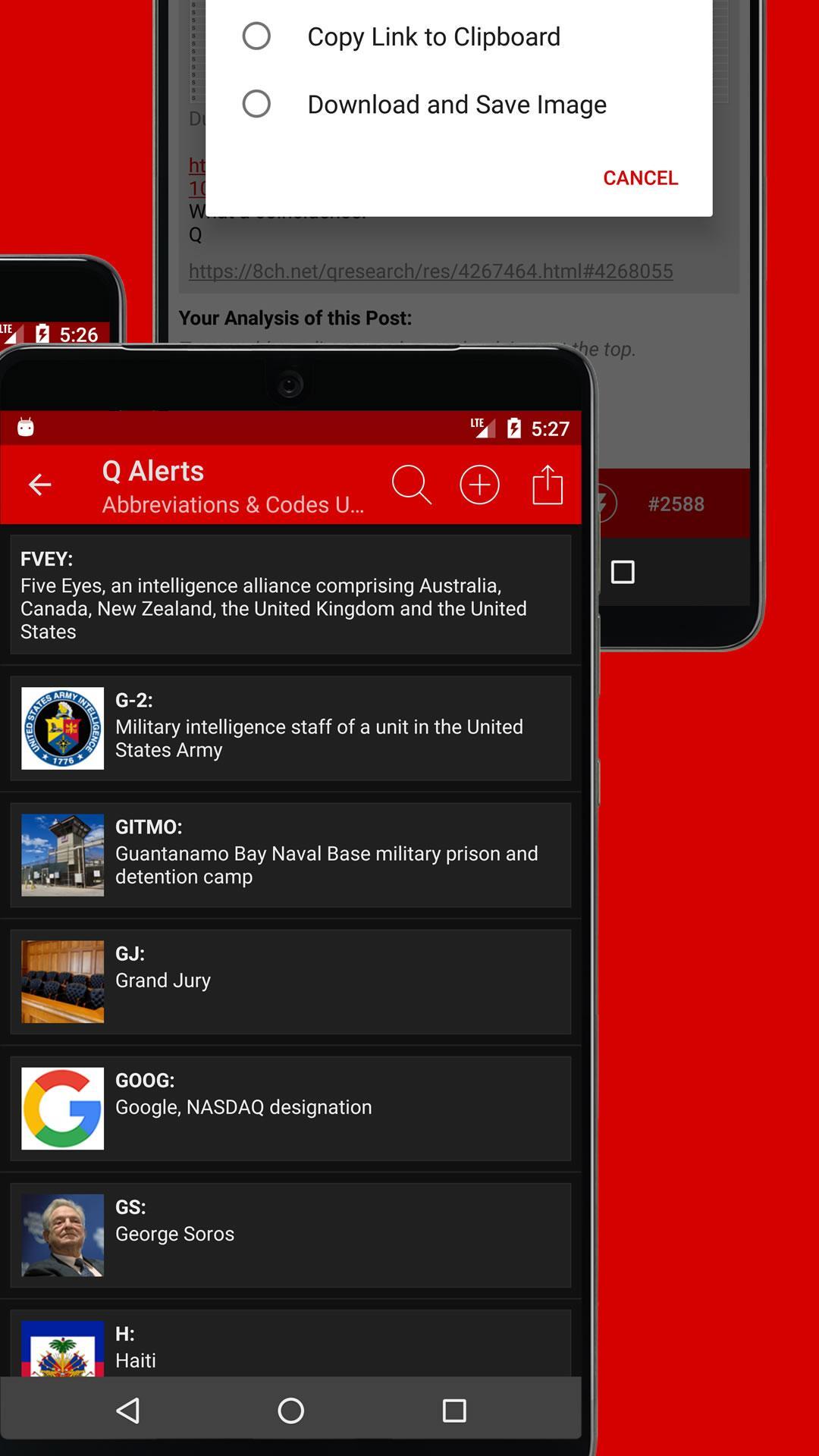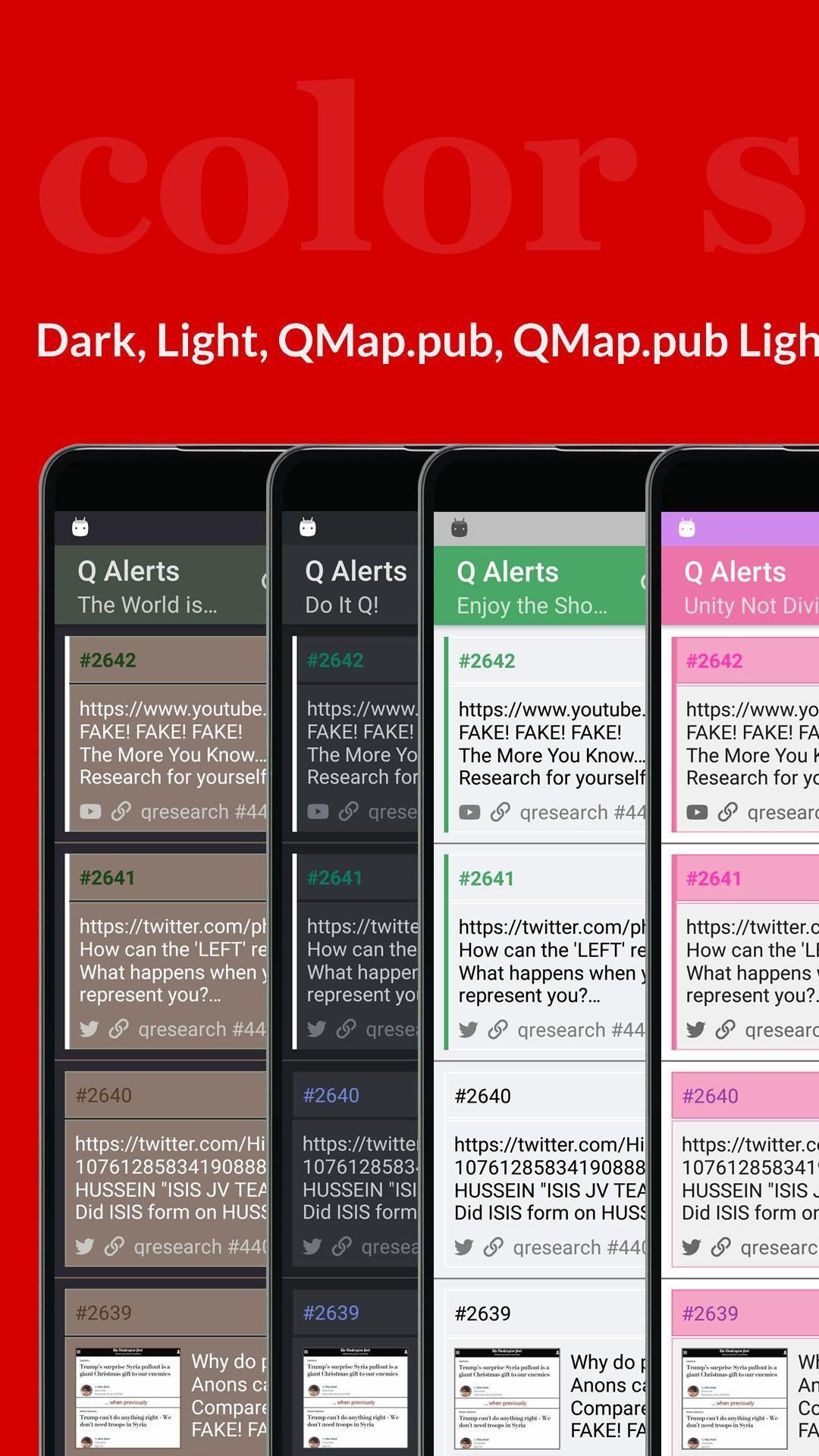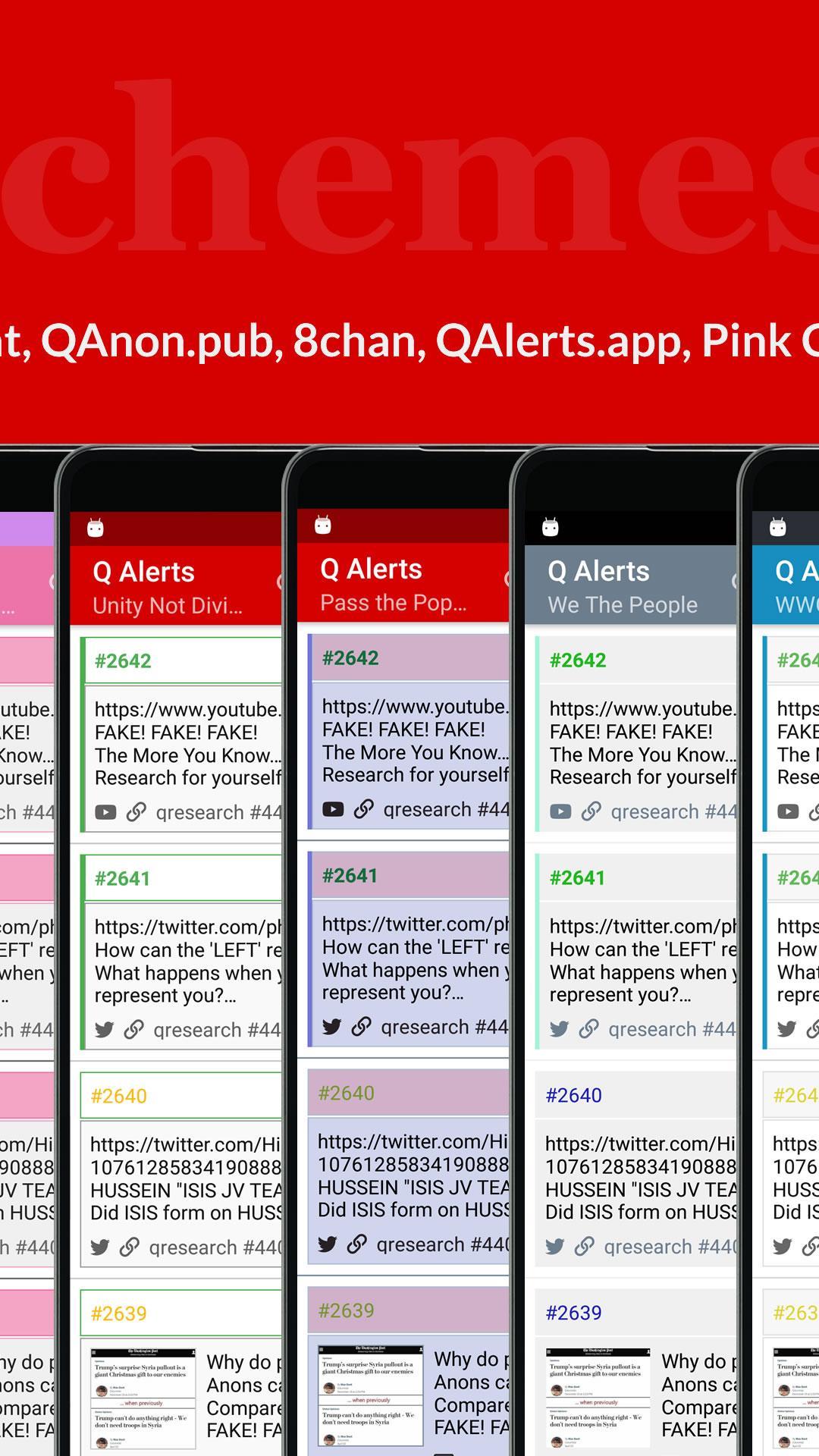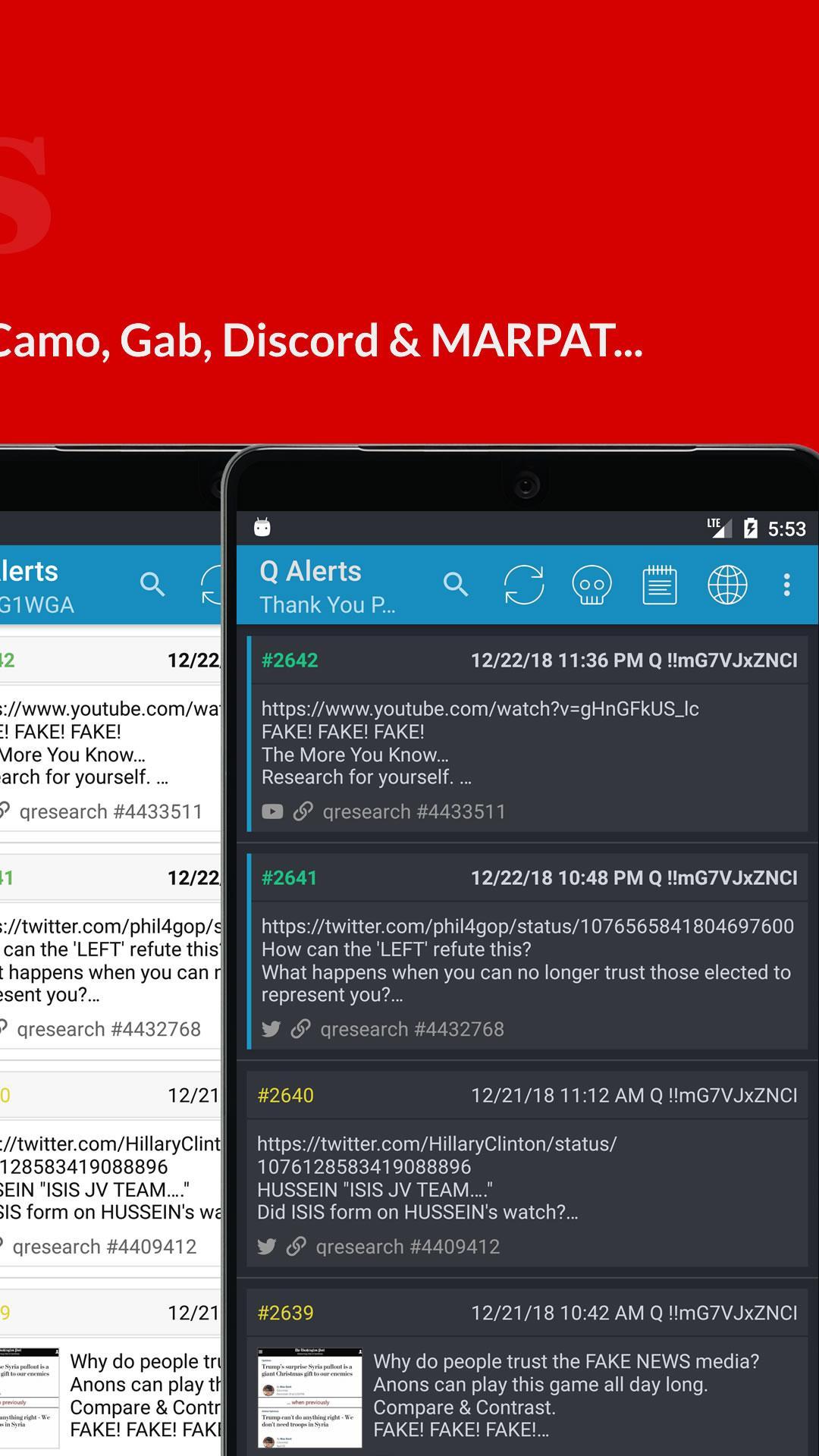 CAUTION: Do NOT download any Q Alerts Android app .APK files from anywhere other than one of our official sites. All of our mirror sites look the same. God only knows what kind of nepharius things versions of our .APK's unlawfully hosted elsewhere could be loaded up with. We authorize no one to download our .APK file(s) and distribute them on any other site.
Q Alerts notifies you quickly when Q makes new drops. It also allows you to search, browse, share and research Q posts & much much more.
Q Alerts is the first & original Q Android app as well as the most downloaded & actively developed. See why the top researchers rely on Q Alerts.
كما يدعم اللغة العربية. বাংলা ভাষাও সমর্থন করে। 还支持中文。 Prend également en charge la langue française. साथ ही हिंदी भाषा का समर्थन करता है। Também suporta idioma português. Также поддерживает русский язык. También es compatible con el idioma español. Unterstützt auch die deutsche Sprache. Juga mendukung bahasa Indonesia. Supporta anche la lingua italiana. 日本語にも対応。 Türk dilini de destekler. اردو زبان کی بھی حمایت کرتا ہے۔
DISCLAIMER: This app displays, as a convenience to those interested in Q and wishing to be alerted of Q postings, data aggregated from json feeds. We do not control the source data. Human's have varying views, opinions and beliefs. Posts from these sources can be of a political nature and also express viewpoints that some may disagree with. Some users may occasionally find some of the data objectionable or offensive.
FEATURES:
Q Alerts will send a push notification to your device within a few minutes of when Q makes a new drop.
New Q posts are marked as unread allowing you to easily see which drops are unread.
Swipe left or right, use the bottom navigation or use the volume rocker to view the next or previous Q drop.
Add any Q post to your list of favorites Q drops by tapping the Punisher Skull icon when viewing a post. Easily view a list of all of your saved favorites with a single tap.
Record analysis, notes or decodes for any drop by tapping the Notepad icon. Easily view a list of all Q posts & their notes with a single tap. You can also export your notes for safe keeping or further research elsewhere.
Share any post via email, social media, clipboard, browser link & more. You can also easily generate & download an image of any post for uploading to social media, thus overcoming censorship.
Links to the original Q drop on 8kun.net as well as menu options to view post on other popular sites. The full version also allows viewing the post on 8kun via the Tor & Loki networks (requires Tor Project and/or Loki.Network software to be installed).
Tap an image to view full-sized.
Links within posts are tap-able & are opened in the appropriate application.
Long-press sections within a Q drop to copy to your clipboard. Long-press images to save the image to your device.
Choose from 12 color schemes; Dark, Light, QMap.pub, QMap.pub Light, QAnon.pub, QAlerts.app, Pink Camo, Gab, Gab Dark, Discord & MARPAT.
Adjustable Font size.
Icons are displayed along with each Q post, allowing you to easily identify the properties of each drop.
You can choose to show or not show image thumbnails in the list. You can also opt to show thumbnails at full device width.
Q Alerts can also optionally automatically save all images associated with Q drops that you view to your camera roll.
Searchable list of acronyms/abbreviations that are often used. Not sure what +++ or RR means? Easily find the answer. Many definitions also have thumbnails. Long-press a definition to copy it to your clipboard. This list may also be shared.
For newbies, the globe icon includes links to the original boards, other consolidated research sites as well as popular YouTube channels who do a great job at decoding Q crumbs.
Not interested in loading all posts from back to 10/28/2017? Use "Max Posts to Show". This can also greatly speed up load times.
Offline mode & resiliency: The app will detect if you do not have an Internet connection & automatically load the most recent downloaded data, images Android has automatically cached or images you have opted to have auto-downloaded as well as a locally stored list of acronyms/abbreviations, sites & YouTube channels. The app will also automatically detect if our primary site goes down due to attack & move onto built-in pre-planned resiliency protocols.
…and many more features designed by a Patriot for Patriots. Be sure to visit "Settings" to explore them all & make your QAlerts installation your own.
* Note: Some features/options may require enabling in Settings.
Enjoy the show, WWG1WGA!
---
INSTALLATION INSTRUCTIONS:
IMPORTANT NOTES:

If you have a version of the app that was installed from the Play Store and you run into any installation errors, you will need to uninstall the Play Store version first and then retry installing this version. If you are updating after installing a version prior to 9/16/2020, the package name has changed. You will find that you will have two versions installed. The current version (you should keep) will have the title "Intel Drops". Any others you can uninstall. Some images may show "qalertsapp.apk", "qalerts-lite.apk", "qalerts.apk" or some other ".apk" name. Your screens may vary slightly depending on what version you are installing. Just ignore any slight differences in apk file names.
Tap the "Download" button at the top of the page or this link to begin the download. IF your browser (often DuckDuckGo) downloads a ".bin" file rather than a ".apk" file, use a different browser for the download. The downloaded file must be a ".apk" file.
You may get a warning such as the one below. Just tap "OK".

When the download is complete tap "Open".

You may get a warning stating "For your security, your phone is not allowed to install unknown apps from this source". "Settings"


The "Install unknown apps" setting screen will open. Tap the switch to enable "Allow from this source". Then press back or tap the left arrow icon to exit the setting.

You may get a prompt asking what application to open the apk file with. For recent Android versions this will be "Package Installer". Tap "Just Once".

You will get a prompt asking you if you would like to install the application. Select "Install".

Once the app has completed installing, depending on your device settings, it will either be placed on one of your home screens, or only reside in your app drawer (swipe up from bottom of your device). Find the app icon and tap it to launch the app. The first load will be somewhat slow as it parses the over 4,000 Q posts into the database. Just be patient. Opening the app after this first time will be much quicker.
If you run into any errors, chances are, you have a version already on your device that was installed from the Play Store. At this time (May 25th, 2020), there is no need to install this website version if you already have one installed. In the event that you want to install this web version, uninstall the previously installed version first and then start at the beginning of these instructions.
---
Due to censorship/tortious interference, we've lost all income we used to pay for the servers, language translations, services, etc. Please consider making a donation to help support our work & expenses. ThanQ!
ETH (Ethereum): 0x069c70e4ba16d9fb7e2658156456096b627ffdab